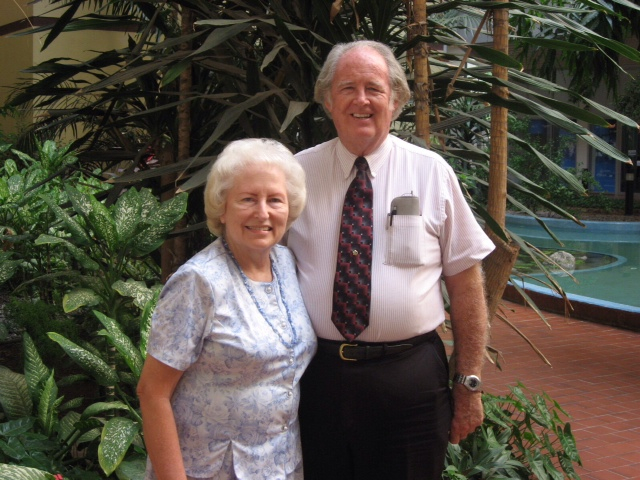 Arthur and Doris Hokett have been missionaries since 1966, living first in Ghana, and now in Lagos, Nigeria. They have a son, Jeff, who was born in Ghana. He and his wife, Sandra, have three young sons.
They travel most of the time, preaching and teaching in crusades, revivals, seminars, conventions, etc. They have ministered all over Nigeria, Ghana, Togo, Benin, Burkina Faso, Niger, Ethiopia, Kenya, Uganda, Tanzania, South Sudan, Zambia, Zimbabwe, Malawi, Botswana, South Africa, Swaziland, Mozambique, India, Sri Lanka, Mexico, Holland, England, Switzerland, etc. Every year they travel many thousands of miles.
Arthur is a powerful preacher and an anointed man of God. He has been a minister since he was a teenager, touching many thousands of lives with his messages. He coordinated a large youth programme in churches all over Ghana for many years. and also helped pastors to build many churches.
Doris has written fifteen books, twelve of which have been published in Nigeria. Six of them are full of exciting miracles and testimonies, while the next seven contain her teaching messages. Her latest book, "Stories He Loved to Tell," shares faith building stories told by Rev. Hokett when he ministered. She also preaches and sings in their meetings, having made three cassettes of her songs, plus many CD's.
They minister together as a team, challenging people everywhere to give their lives to Christ. They pray for the sick, and have seen many miraculous healings in their meetings. They share many testimonies in every service, to build faith for miracles.
Please note: Rev Arthur E. Hokett went to be with the Lord on August 6, 2011, at the age of seventy-three. He was a faithful man of God, and served in Africa for more than 45 years. He was much loved by many thousands of people all over the world, and he is greatly missed by his family and friends. Doris, his wife of nearly 54 years, is continuing with the ministry, traveling and preaching in many countries. She is helping build many churches in Northern Ghana, and church number 62 is the latest one. Many people are giving special offerings to have a part, in Arthur's memory.
The ministry is totally a faith ministry, as people pray and give to support the work. If you would like to have a part in helping Doris to reach the nations with the gospel, offerings can be sent to either one of the two addresses given below. For all other countries you can write, and request information for details about how to give.
U.S. Address:P.O. Box 8188Pasadena, TX 77508-8188Phone: 281-471-4109 Email Address:

This email address is being protected from spambots. You need JavaScript enabled to view it.

Rev. Doris Hokett

Missionary Evangelist

Nigeria Address:P.O. Box 7168 Surulere Lagos, Nigeria0803-700-8703 or 0803-701-0721 Website: www.hokett.org